Instead of preparing for finals, which occur on Monday, I've decided I should try to update some information about my travels. It may be hard for me to recall details, but I'll try my hardest!

I last updated about Venice, so now I'll move onto Florence. This was way back in March. Around March 11th, I believe.
We got into Florence rather late at night. Kristin, Misch, Colette, and I took a later train than our friends, and we had no information about where we were staying. All we knew was the name of the hostel. So after we found where Colette was staying, we dropped her off and found an internet cafe to search for directions. What a pain - we were so worried we wouldn't find the place. We checked into the Leonardo House around 8pm and got a quick dinner. When we went back to the hostel we ran into a bunch of our friends going out for gelato. So we joined them for the best gelato I've ever had. It's a place called Grom, close to the Duomo. Absolutely delicious, not to mention one of the best deals I got on gelato while in Italy. 2 euros for 2 flavors!
We then retired for the night, deciding to get up early to get the most out of our one measley day in Florence. We headed to the Boboli gardens, which are across the river. We crossed the Ponte Vecchio - the oldest bridge in Florence, because it's the only one that survived the war. The bridge is a huge jewelry market where you can find high quality jewelry, gold, gems, and diamonds. Beautiful but hard to look at, considering what kind of budget we're all on.
The Boboli Gardens are like the Versailles of Italy. We got there right at opening, so it wasn't busy yet. I know that America's Next Top Model once did a photo shoot in these gardens. It's tiers upon tiers of greenery, fountains, foot paths, and beautiful marble scupltures. I took a bunch of pictures. The weather was absolutely gorgeous! I fell in love with Florence at this moment. The gardens are huge, and even connect to another garden (I forget the name). These are the gardens behind the palace that seated the Medici grand dukes.
Later we grabbed some lunch - pizza, of course. We then admired the Duomo. As an Italian church, it's a lot plainer in the inside than the byzantine or gothic styles. But the outside is truely a breathtaking sight. The dome is huge! Unfortuntely, I didn't climb the tower to the top, which is supposed to be very cool. But I saw the doors of the Bapistry, designed by Ghiberti! We learned about so many of the sculptures and architecture of Florence in my Renaissance Art History course.
Then we headed to see the David at the Accademia Museum. Michelangelo's sculpture is absolutely beautiful, a true image of classic Greek ideals. His hands are a tad large for his body though. I laughed at that flaw. But it's easy to fall in love with the David. He's really the only thing worth seeing at the Accademia besides a bunch of random busts and alter pieces.
The leather market in Florence is incomparible to any other market I've been to in Europe. The best leather goods I've seen outside of Coach, ahaha. I only bought sunglasses though, because I couldn't carry anything else in my backpack that extended spring break trip. I was living out of my bookbag for 10 days! After meeting up with Ilana's friend who is studying in Florence right now, she took us to an amazing osteria for dinner. She knows one of the waiters there, and the deal we got on such an amazing meal astounded me. The salad was the best I've had since being in Europe. People don't eat salads here! We also got great recommendations on wine. I think I spent a mere 11 euros. After walking out a bit more drunk than expected, we claimed our bags from our hostel (where the manager was peeved because we said we'd be back for our bags 45 minutes earlier) and took off to the train station in a rush. After barely making our train (because you need reservations for all trains in Italy, as a boarding fee or something), we were off to Rome. I'm sad that we only had one day in Florence, but it was one of my favorite cities on this trip. The weather was stunning - the first entire day of sun and warmth I've had since October.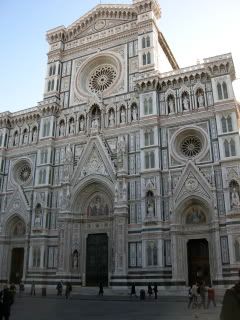 The doors of the Duomo.



The Gates of Paradise by Ghiberti, on the Bapistry across from the Duomo.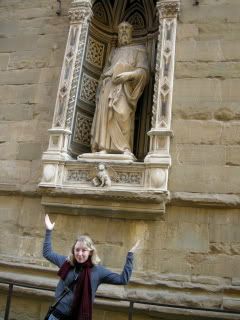 An example of all of the sculptures we recognized in Florence.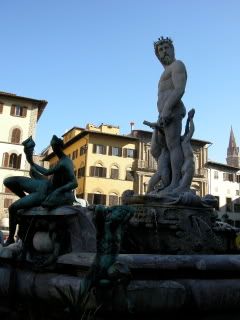 Neptune?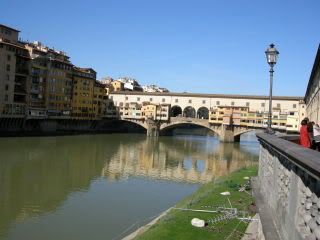 The Ponte Vecchio in the distance.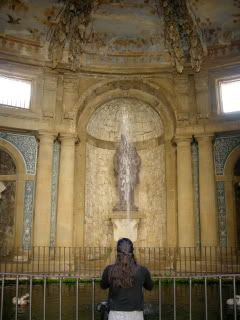 Fountain in the courtyard of the Pilli Palace.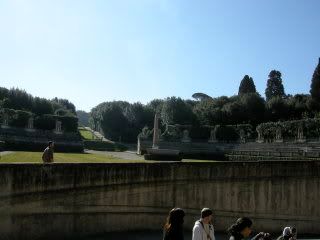 Entering the Boboli gardens.



The view of the Duomo from the gardens.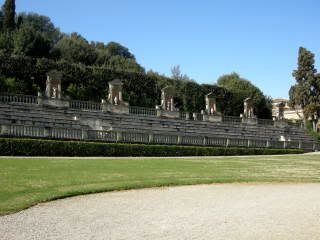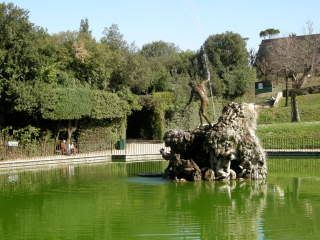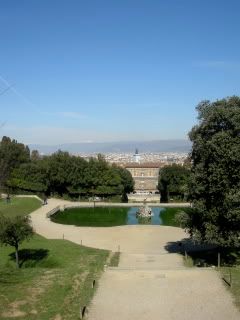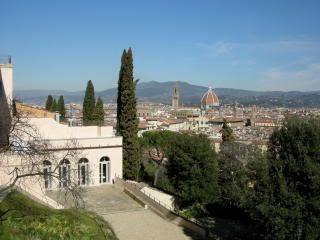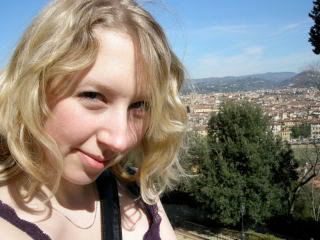 Overlooking Firenze!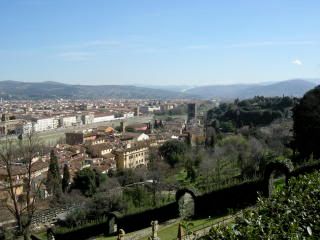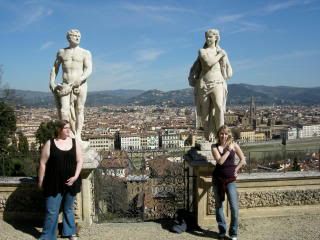 Liz (my roommate) and me posing as statues.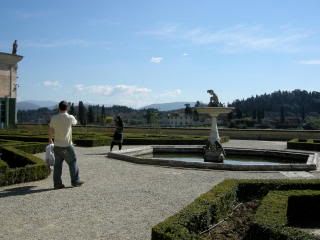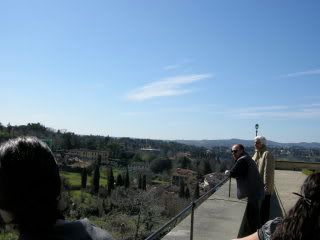 We sat overlooking this side of the gardens for a good half an hour, basking in the sun.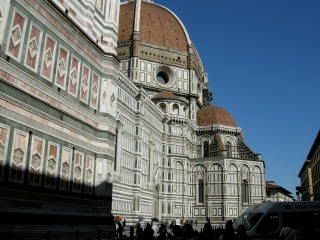 The Duomo!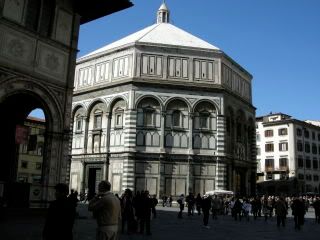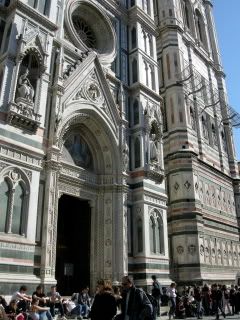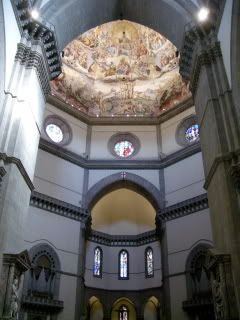 Inside the Duomo.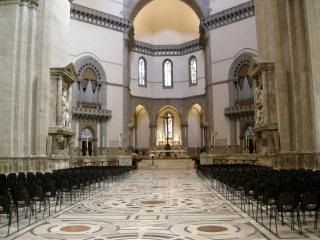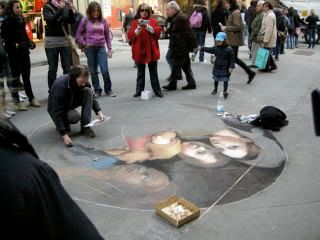 Someone replicating masterpieces with sidewalk chalk on the street.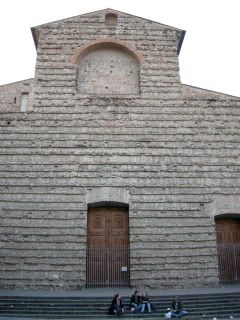 Waiting around the leather market. I don't actually know what this building is, by my friends are sitting on the steps.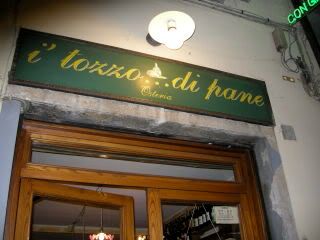 The wonderful osteria we went to that night.

Yeah, I fell in love with Florence. I want to live here someday. It's so full of art, the city is calmer than Rome (which I will get to), and wouldn't it be lovely to live in a villa outside the city, own a Vespa, and work in a museum? I'm daydreaming. But maybe someday it will happen. I want to learn Italian!