Hi guys, sorry I haven't posted sooner about last weekend's trip to Belgium. It's becoming very busy around the Castle, lots of homework and carnivale activities. Let me recall what last weekend was like.

There were five of us going to Belgium: me, Mia, Christina, Kristin, and Andrew. We took a train to Brussels on Thursday night, but on the way run into some difficulty. 1) We were confused about how to activate our Eurail passes, so we just got on the train until we ran into a problem: 2) The train we were supposed to take to from Maastricht to Liège was not at the platform when it was supposed to be. A woman in uniform approached us while we looked confused, and told us that the train wouldn't be there until the next hour, but that a bus was taking people to Liège in the meantime. So we walked over to the buses and asked a few people to make sure we were going the right way. A young dutch man started talking to Mia and Christina and introduced himself as Tijs. He told us that the reason why there was no train at the platform was because someone committed suicide on that track by throwing themselves in front of a train earlier that evening. Not a good story, right? Apparently this happens somewhat often; the guy said that the Netherlands is nicknamed "the land of the dead." Eventually we parted ways with Tijs and made it into Brussels a-okay; we had our Eurail passes activated on the train in Liège (for a fee...which would have been free at a train station, had there been a kiosk open at that hour). Got to our hostel, passed out.
The next morning we walked around for a bit, found the Grand Place and ate our first Belgian waffle! I woke up with a cold that morning, so I was in desperate need of a hot coffee. After walking around a bit more, we hopped on a train to Bruges, which is only an hour away from Brussels.
Bruges is beautiful! The whole town wis preserved in its medieval glory without looking like what Williamsburg does for Colonial America. All of the streets are windy and don't make any sense. It's true, what Colin Farrell says in the film In Bruges, that all there is in the town is churches. There were a lot of old churches. We went to the Basilica of the Holy Blood, where there, inside a huge silver case is apparently a vial holding a few drops of Christ's blood. I think we went into four churches last weekend! But they were beautiful, and some of them even had choirs singing while we were there. One of the other churches had the Michaelangelo sculpture of Madonna and Child! We also climbed the belfry tower on Friday. It's the bell tower in the center of the town, 366 steps to the top. We finally got up there, after huffing and puffing, and the view was incredible! 360º view! After that we ate some frites to reenergize and ended up running into another student from the castle, who was travelling by himself. We invited him to tag along, and we took a canal tour. It was beautiful, although the weather could have been better, and I probably took one hundred photos while on the boat. Later that night, after eating some wonderful pasta and a local restaurant (where locals go, haha), we went to the oldest pub in Bruges, created in 1515. It was a bunch of townies (locals) drinking beer and playing checkers. They kind of looked at us funny for awhile, but we just joined in and played some board games. It was so relaxing compared to our time in Dublin.
On Valentine's Day, we met up with Andras (the other student), and walked to the edge of the town where the windmills are. Andras's hostel recommended we go out there so we can see a view of the whole town. Compared to the previous day, we got wonderful blue skies that day and took a bunch of pictures by the windmills. Then we got back into town and took a train back to Brussels.
Basically, we didn't see much of Brussels. We got in, dropped our stuff back off at the hostel we'd stayed at the first night, and ended up walking through the "barrio"/Turkish district to get some cheap eats. Got a little lost. I forgot to mention that Brussels speaks both Dutch and English since it's the capital. So I used some of my pitiful French to get by - barely survived on it though. I think I want to relearn French. Later in the night, after watching a rugby match on tv between England and Wales (narrated in Dutch, ironically), we went out to the greatest bar I've ever been to. It's called Delirium, and they serve over 2000 different types of beer! There were these huge binders describing many of the different beers on tap or in bottles. Because it was Valentine's Day, and I was sick, I decided to try Floris Fraise: strawberry beer, only 3% alcohol by content. It was pink and delicious, like strawberry soda with a twist.
The next morning, my friends were all feeling really tired, so we just checked out, ate some waffles, and left to go back to the castle. Belgium was great though. They have my needs in mind: chocolate and tea galore! They sold tea everywhere, and I ate a bunch of chocolate from a local grocery store.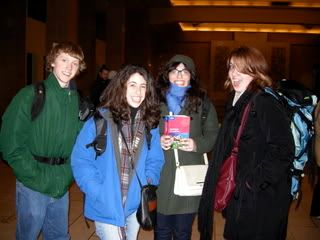 We made it to Brussels after the train-suicide, hurrah! From left to right: Andrew, Mia, Christina, and Kristin.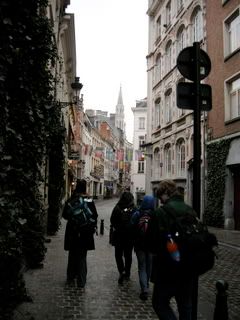 A bit of Brussels.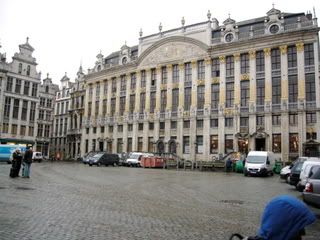 Grand Place is a little square in Brussels where there are some museums and restaurants and a market.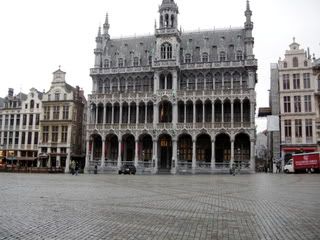 Also in the Grand Place.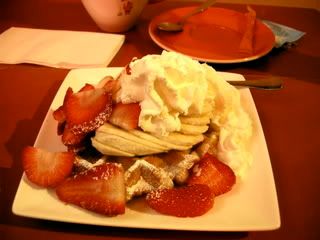 My first authentic waffles: strawberries, bananas, whipped cream. So so wonderful.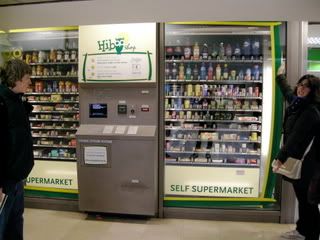 The biggest vending machine we'd ever seen! It sells everything from beer to tampons.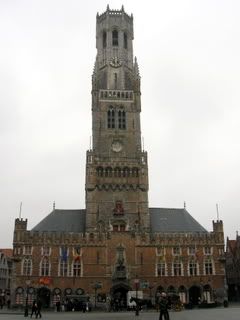 Bruges: the belfry tower we climbed up! They used to store the municipal archives there.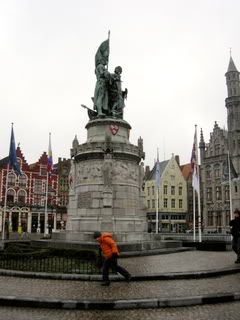 A war memorial in the middle of Markt Square.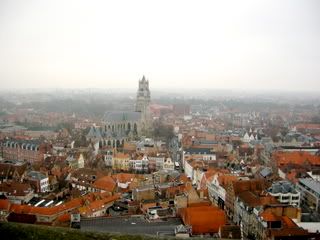 The views from the tower were worth the strenuous stairs. It is also like they say in the film: the way up is very narrow and steep - an obese person could definitely not make it to the top.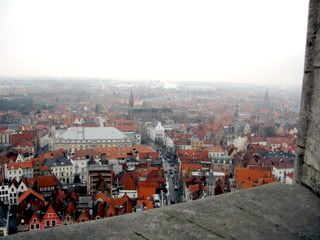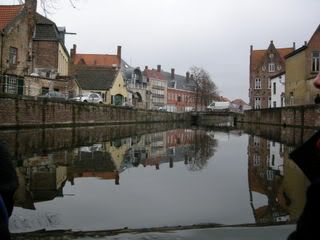 A few photos from the canal.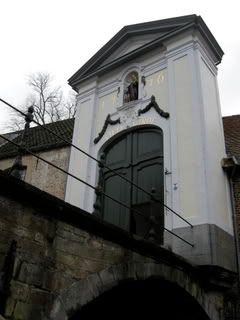 The entrance to the nun's quarter.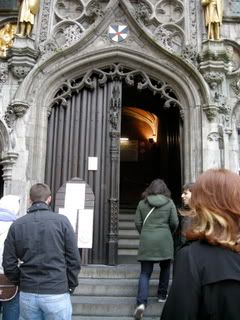 Entrance to the Basilica of the Holy Blood. To preserve the inside of the church, and to be respectful, I couldn't take any photos inside.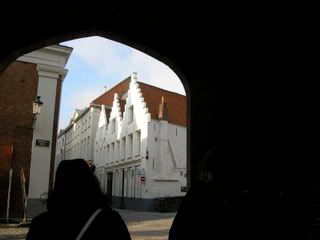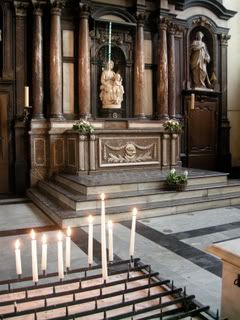 But here's a photo of Madonna and Child because we could take photos there.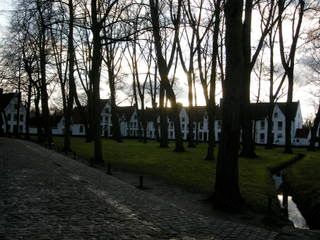 Inside the Nun's Quarter in Bruges. I was very cold and sick at this point, so I just stood inside the gates and took pictures.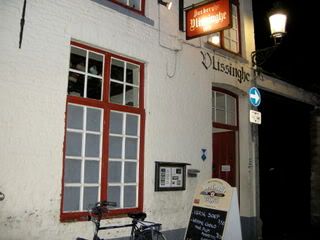 Oldest pub in Bruges!



A canal in Bruges.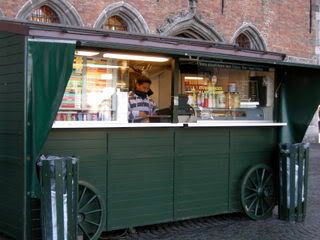 There are two rivaling frites stands outside of the belfry tower, and they've been competing for years and years. But the town citizens get to vote on who owns the frites stands (or something...) so they competition never beats out the other one.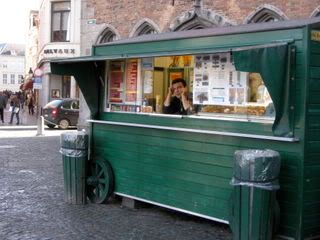 They were delicious fries with an assortment of sauces.



On our way to the edge of the town.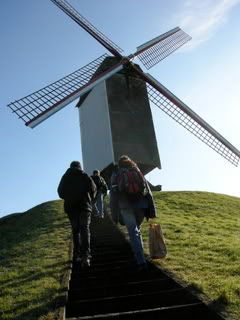 Walking up to the windmills!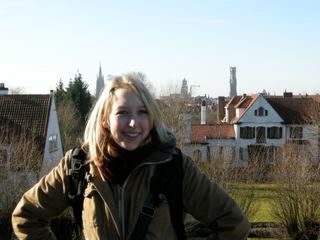 Me and the town of Bruges behind me (although we didn't have enough elevation for a true view).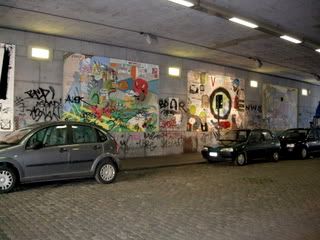 There was an unexpected amount of street art everywhere in Brussels...the city was kind of grimy to be honest.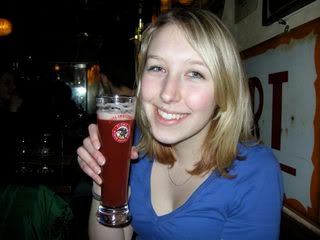 Looking kind of sick and drinking my strawberry beer.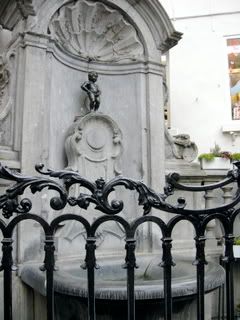 And our last stop before home: Manneken Pis, the little statue of the peeing boy. It was amusing, and random. "Errant" or "wild" pee is actually a crime in Belgium (what they call peeing in a public place)...so I find this statue ironic: isn't it a bad influence?

Well, that's the story from Belgium. Sorry it took me so long to type it all out. Next post is about Assendelft and a few of my Dutch relatives.