I'm home from Dublin! Where do I even begin? We took a cheap flight on RyanAir from Dusseldorf (Weeze) Airport into Dublin Airport. In order to catch our 7am flight, I woke up at 4am. So by the time we got into Dublin city center, my friends and I were dog-gone tired. We decided we'd grab some lunch, do a bit of sightseeing, then check into Abbey Court Hostel and take a nap. I split up from my normal group of friends and spent the weekend with Bettina (who also has Dutch relatives still living in the mother land), Carina, and Fro (her name is really Christine, long story). After lunch we decided to walk the short trek to the Guinness Storehouse and take a tour. It was actually pretty interesting; we learned the ingredients and process of making Guinness, learned the background of the factory, about the advertising schemes and how much beer they've produced. This year is Guinness's 250 year anniversary. At the top of the factory, after taking several escalators, there's something called the "gravity bar," where you can give them a ticket stub for a pint, and enjoy a 360º view of the city. The weather had cleared up before we got into the city, so it was a gorgeous view. On the rounded glass window, there were little notes about what you could see in the city from that perspective, along with some great quotes from James Joyce and other Irish writers. So we enjoyed some time there and then went to the hostel. After we were rejuvenated, we ate some cheap fast food from a food court to save money. Apparently Dublin has the fourth highest cost of living in the world. I spent way too much money, but it was worth it.

We decided we want to go on a pub crawl that started at Trinity College at 8pm. Trinity College was absolutely enchanting at night. I wish I had taken pictures. The campus is surrounded by a stone wall and black gates. Inside were many stone buildings and a bell tower in the center of Parliament Square. Students were strolling and biking on the cobblestones. The whole city was alive this weekend because there was a rugby match going on in town, between Ireland and France. People were dressed up in crazy wigs, animal suits, face paint, jerseys. I don't think I will ever hear that much French again without being in France. A few days before we came to Ireland, there was a huge snow storm, which is apparently unnatural for the climate. By the time we arrived, it had mostly melted, but it was quite cold. Almost as cold as it was in Amsterdam.

When we met up with the pub crawl group, our tour guide, Cathal (pronounced like "Ca'hil") told us the deal - he was going to take us to some bars and dance clubs that most tourists didn't frequent. There was great live music, good drink deals, and the group of us was pretty international: French girls, a girl from Singapore and a guy from Malasya, two very cute guys from Australia that we talked to a lot, and a few Americans not including the Emerson group of 6 girls. It was a very relaxing and fun night, to say the least. Even got some sleep when we got back to the hostel! In the morning, they served us a pretty meager breakfast. We got ready to do some more sight seeing, and walked north to the Dublin City Gallery - The Hugh Lane. It's a gallery of contemporary Irish and International art, which surprised me tremendously. I wrote down a few artists that I really liked: Dorothy Cross and Brian Maguire were both featured in a print collection, and Elizabeth Magill paints distressed landscapes. Right down the street was the Irish Writer's Museum, where you can take a tour of Irish literature history. There were a lot of writers whom I never knew were Irish! It was pretty interesting, and the house in which the collection is featured was gorgeous 18th Century house which used to belong to a family of high society...all of Parnell Street and the surrounding neighborhood was the richer part of Dublin. After we finished there, we noticed there was a beautiful monument and fountain dedicated to those who lost their lives in the fight for Irish freedom. It's called the Garden of Remembrance. The fountain pool was covered in shattered ice, reflecting light and shimmering.

We decided we wanted to warm up with some sandwiches and a coffee back in the city center. We went around shopping for a little bit, amused by all of the crazy costumes and high spirits for the big match that started at 5. By the time the match started, we decided to watch it in a nearby pub, and relax a bit. Rugby is such a violent mixture of soccer and American football. Ireland won! But I was surprised that nobody was going crazy in the street like Bostonians are when the Sox win a playoff game. The Six Nations Rugby tournament seems like it should be at the same par - but International! Instead, the night was pretty mellow on the streets, which is fine by me. Sometimes riots can be stressful.

My friends and I decided we wanted to go out dancing that night, and our hostel was kind enough to give us some great recommendations and directions. We ended up at a great place called the Button Factory, with a live DJ mixing legitimate music, like the Yeah Yeah Yeahs, M.I.A., and The Gossip. It seemed much more local than a touristy night club, and it was a huge venue. Met some great, local Irish guys, and I spent most of my time dancing with a fellow named Daniel. It was nice that, unlike in Amsterdam, I didn't feel victimized for being American. In Ireland, everyone was so friendly and good humored, and I didn't feel vulnerable like I did in Amsterdam. So when it was getting late, Bettina and I decided to split off from Carina and Fro because we had an early flight to catch, whereas they were staying another night in Dublin. Said goodbye to our new friends (it's odd because all of the connections I've made these past two weeks won't continue - having no phone, travelling around so much, and not as many people in Europe have Facebook because it's still a pretty American thing). Got about 4 hours of sleep and then made our flight. And now I'm back, doing homework and nursing my exhaustion. I was seriously too tired to even eat my dinner.

Hope you all had a great weekend, too.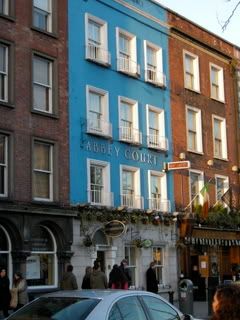 This is the hostel we stayed at. We were in a mixed dorm with twelve beds. We met a few nice, helpful people, and also people who were kind of creepy. But it was all good.



These are the girls I spent my weekend with. Fro, Carina, and Bettina.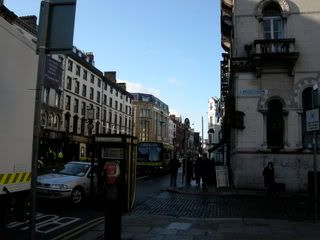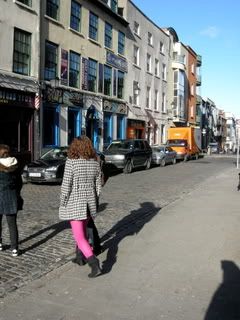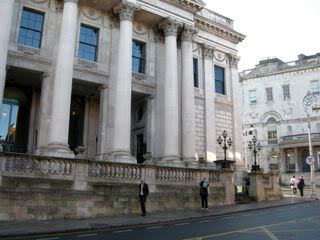 I believe this is city hall.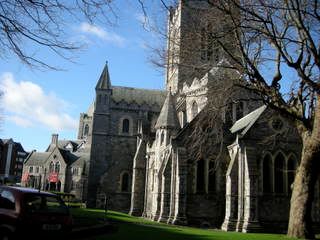 Christ Church Cathedral was first constructed around 1050 A.D.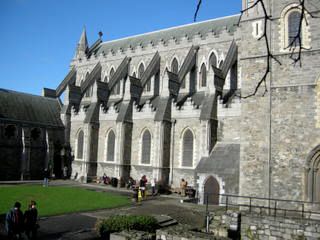 Complete with flying buttresses!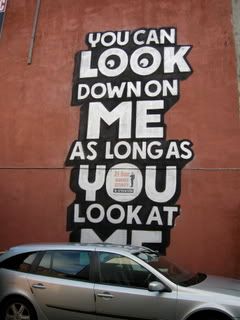 Awesome graffiti art.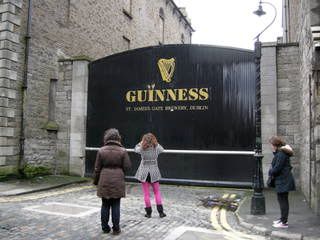 The Guinness Storehouse.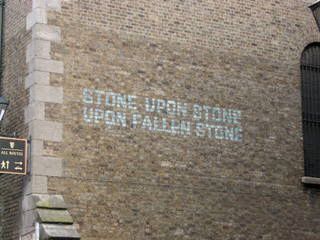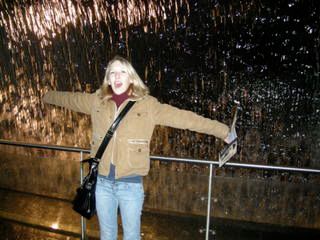 Underneath an awesome fountain of the purest water they use in making Guinness. It fascinated me.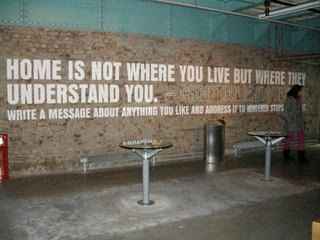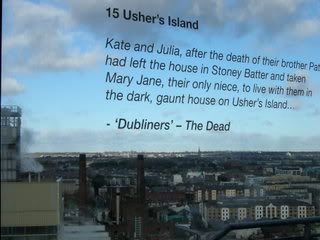 Up in the Gravity Bar.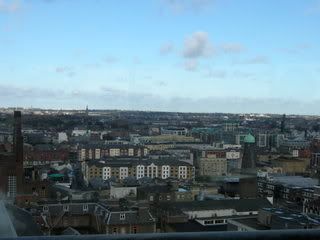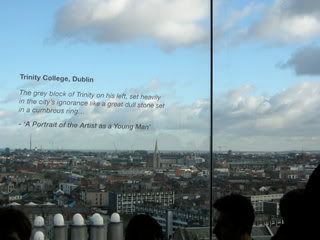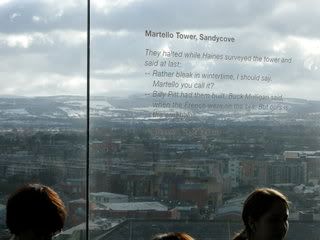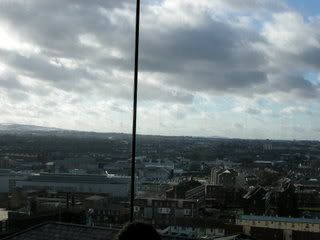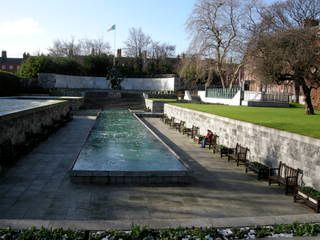 The Garden of Remembrance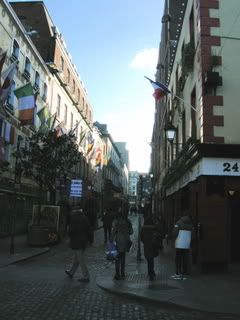 In the Temple Bar neighborhood.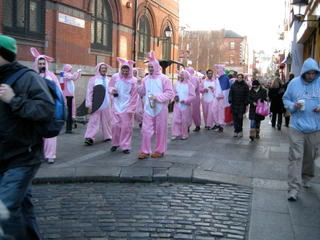 Crazy French rugby fans.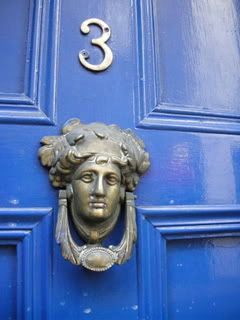 Dublin has a great history of painting doors all sorts of colors.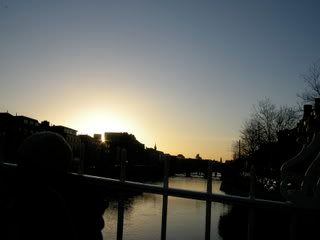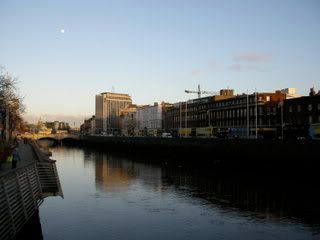 The River Liffey.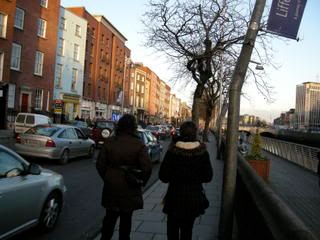 I'm off to Brussels and Bruges in Belgium next weekend. Let you know next week how it all goes!