I'm back from Amsterdam! So much to say about the weekend, I will try my best to include everything, although I do have work I need to get back to.

We left Well around 8 in the morning on Friday, and got to the hostel by 11 or so. The hostel was located right next to Vondelpark, which is apparently the pride of the city, because there is very little space available for open grounds. I'm guessing the park would look more beautiful if the trees weren't barren and there was grass. It just looked like a bare, brown space with a wide walking path down the center. But I digress. The hostel was called Stay Okay, and it really was an okay stay! I felt very safe there, the place was well furnished in the lobby, they had a little cafe and bar and even internet access. For every section of the building you wanted to get into, you had to use your key card. The bed linens were pretty clean, along with the shower and bathroom facilities. The staff was super professional and helpful if you needed suggestions.

When we arrived we had to store our luggage until the evening when we could move in. We went on a walking tour of the city, and Chester Lee was my group leader - he's a historian so he may have told us more than we needed to know, but the weather was beautiful and everyone was in good spirits so I wasn't ticked when we went overschedule. Later in the day we all gathered at the Rijksmuseum, where there is a huge collection of the Dutch masters. Unfortunately, they've been renovating for the past few years and the project is way behind schedule and over budget, so instead of opening last year, it will likely open in 2013. I'd like to come back to Amsterdam to see their collection in its entirety. Even so, the few Vermeers and Rembrandts I did get the pleasure of seeing were awe-inspiring. The Night Watch is so big!

Dulcia, our program director, organized for the whole group of us to eat at an Indonesian restaurant for dinner. Delicious, yet so spicy. And then after that, we walked back to the hostel (there was a lot of walking...there really isn't any quick way to walk around the city) and settled in. My friends and I rested a little bit and then we went out for some night life. I honestly didn't have that much fun at night in Amsterdam. I felt like there was too much pressure to have fun because...eh, it's Amsterdam, legal drugs and the red light district...whatever. I was unimpressed. So I went to bed pretty early that night. The next morning we had an appointment to tour the Amsterdam Historical Museum. There were a lot of great artifacts there, and we learned how the city expanded rapidly, and about the Golden Age of the 17th century. Since there were no major resources in the area, the city became wealthy just by trading, because it was a large port...now not so much, because there is no place to store inports and exports. The city's glory declined after a bunch of battles with England and France. And now it's a huge tourist destination and beer exporter.

After the museum, we had some freetime which I basically spent in a nice warm cafe drinking a latte. Did I mention how absurdly cold it was in Amsterdam this weekend? It was numbing. It even snowed on Sunday afternoon. Saturday afternoon I also go to visit the Van Gogh Museum, which was pretty cool. I mean, it's a little disappointing, because the great paintings are spread out between all the major museums in the world. But I'm not complaining. After that museum visit, we were officially free to do whatever we wanted for the rest of the weekend, including making arrangements to get home on our own.

Kristin and I met up with a few other friends in Dam Square and then walked around for a long time trying to decide on a place to eat dinner. We finally settled on an Indian place. At first, it felt like the manager and waiters didn't really want us there, because we were a group of 7 Americans. But after we were stuffed with food an hour later (I had chicken tandoori, naan, and chai), and we left a good tip, the manager all of a sudden fell in love with us and asked us if we'd come back again this weekend. It was amusing to me.

After a bit of a respite back in our rooms, we went out again. Went dancing at this place called Amsterdamned, where a few friends had been the night before. It was free...but the music was ridiculous; a mixture of Dutch accordian songs, Salsa, and American pop music. As the night got later, Kristin and I started noticing that the clientele was getting older and less attractive, so we left. We didn't feel like dancing with guys who were balding. Went to sleep around 1am. Kristin and I got up early the next morning so we could beat the lines to Anne Frank Huis, and that we did. I really felt it was the best museum I went to (partially because I did it on my own time, instead of being guided around). To walk around the same floors that the Frank family did, and climb through the Secret Annex...was a little heart-breaking. I just couldn't believe it. What I really wasn't expecting was for the museum to have the actual diary she wrote in, on display there. It had never even occured to me that it would be sitting there, on a little stand enclosed in glass. After we had finished looking around and listening to the clips of Otto Frank and Miep Gies expressing their stories and hopes for humanity, we both were a little down, a little blown away. We walked around and got a coffee, went shopping for a bit.

We tried to walk to my great-grandfather's apartment, which was farther out of the city than our hostel, but the wind was just so strong, and we were so cold and didn't know how much farther the walk would be, so we turned around. I think when I go back during carnivale weekend, to visit my family, I will try to find it again, on my own. Sometimes it's hard to do things like that with a friend, because I don't want to feel like I'm dragging them around to things that don't really mean anything to them. It would be a nice thing to do by myself. We got our backpacks at the hostel, and took the tram to Central Station. When we got there, it was kind of overwhelming to find the right train because everything was in Dutch and it was hard to convince Kristin that I knew what train we should go on. She has travel anxiety - which, you think, would make this program hard to deal with. But she's brave. We got on a train to Nijmegen at 4:30, and after a switch there, we got to Venray, took a bus, and were home by 7:30.


They are mostly city scenes. Only one of me.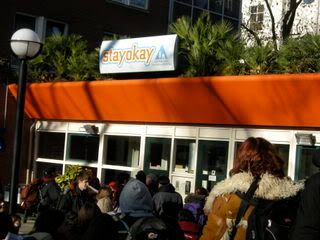 Here's the entrance to the hostel.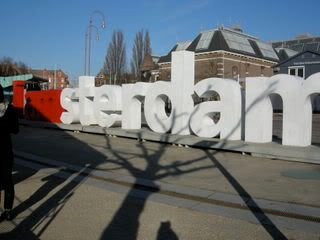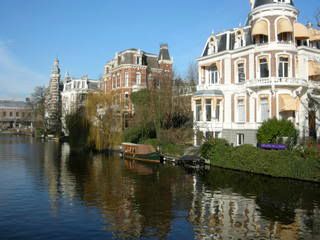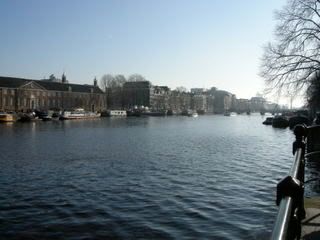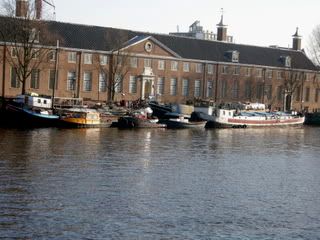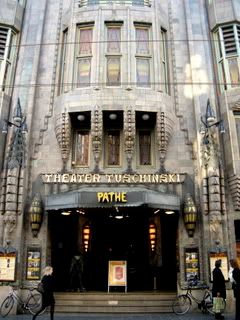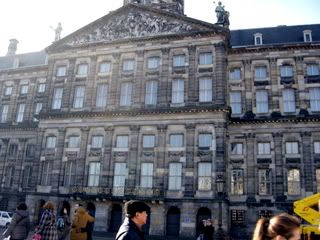 The Royal Palace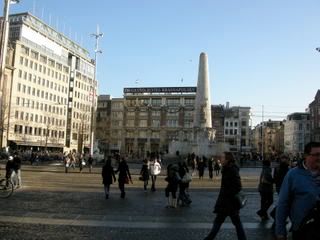 That phallic structure is the National Monument dedicated to victims of WW2.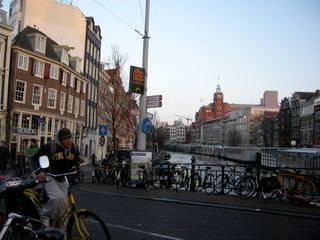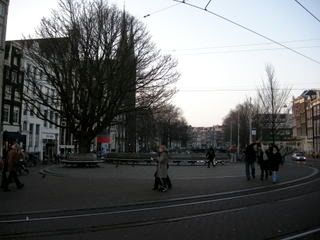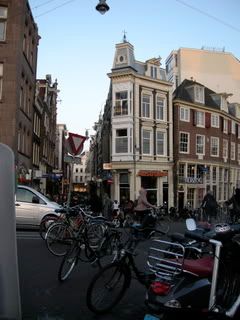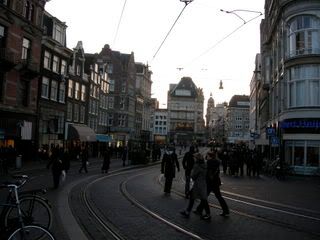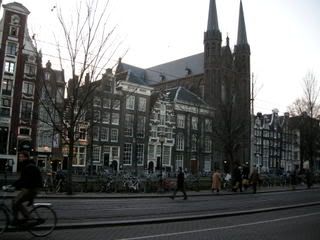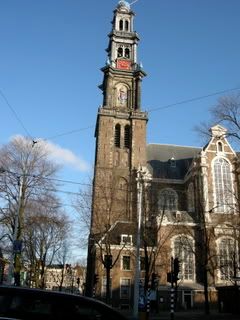 The Westerkerk Church is along the Prisengracht canal. Anne Frank heard those church bells every hour while she was in hiding. They were very beautiful.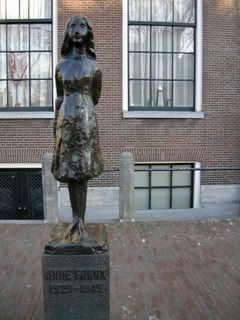 And that's Amsterdam! The city was absolutely gorgeous, even though it was freezing. We had very good weather, over all, because there were clear, blue skies until Sunday afternoon.